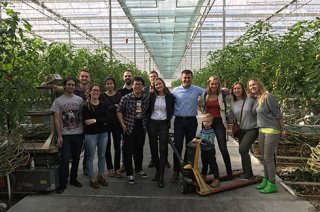 LED-it-Be-programme team building event was a success!
During 19-22 November, the LED-it-Be programme organized a team building event for the 10 PhDs and Post-docs appointed within the project.
The group visited Croatia and Bosnia during the 4 days. During this trip, the group was warmly welcomed by local contacts in the horticulture business and was well introduced to the greenhouse production in the region.
The group also discussed in detail about application of LEDs in the greenhouses with local growers. On 21st The group was invited to Adria Hishtil, one of the largest plant nurseries in the region. There the group was introduced to the details of the plant production and shared in-depth discussion with experts in the nursery.
In addition to the scientific visits and discussion, the group also got a chance to spend time together and enhance the bonding of both scientific and personal relationships. This successful event was organized by the Horticulture and Product Physiology group and has certainly helped to gain experience in organizing such events in the future for more group members.