3.2 PART 2. Development of Guidelines
Goals and structure
In parallel with the comparative study and based on the previous findings, Workpackage 5 researchers aimed at developing a new concept for food Risk Analysis. This concept shall work as guidance for risk regulators for dealing with complex and uncertain risks. At the same time the new concept will give advice on dealing with "ambiguous" risks.
Furthermore, the guidelines developed by SAFE FOODS researchers aim at giving advice on how to deal with systemic risks.
Approach
This research part began with a workshop in October 2004 in Pforzheim, Germany entitled "Systemic Food Risks: a New Challenge to Risk Assessment and Risk Management". At this workshop SAFE FOODS researchers presented the first draft of a concept dealing with systemic food risks to experts in the field of risk and government's research. A concept was already developed by the SAFE FOODS experts in an earlier EU-funded project within the 5th Framework Programme called PrecauPri. This project dealt with the application of the precautionary principle; it use organic chemicals as case study.
Comments generated from the workshop were taken into account; they provided a basis for further developments.
This final research stage is essential since it is here that the theoretical concept will be put to the test. SAFE FOODS researchers included a series of workshops to promote feedback from key stakeholders in order to determine the applicability of the guidelines in practice. The workshops were divided as follows:
Industry workshop
NGOs workshop
Risk managers workshop
Risk assessors workshop
"Mixed" workshop with representatives from the previous workshops
Generated feedback from the workshops will be taken into account and included in the final guidelines for the regulation of systemic risks.
This stage of the project is being implemented by the SAFE FOODS experts. It is expected to be finalised shortly (2007).
Results
The most relevant points presented in the results are:
How to better explain and deal with scientific uncertainty and socio-political ambiguity in the Risk Assessment and Risk Management steps
How to develop clearer structures of participation of stakeholders and the general public
How to better deal with the common boundaries and interfaces between Risk Assessment and Risk Management in a more systematic, transparent and inclusive way
Results are divided in two:
Part A: Proposed Improved Risk Analysis Model
Part B: Proposed Institutional Changes
To view the slide shows please click on the images below.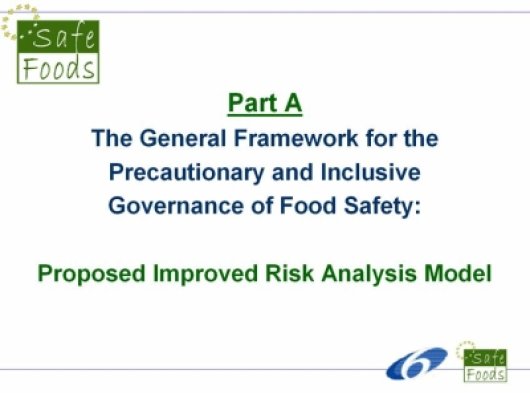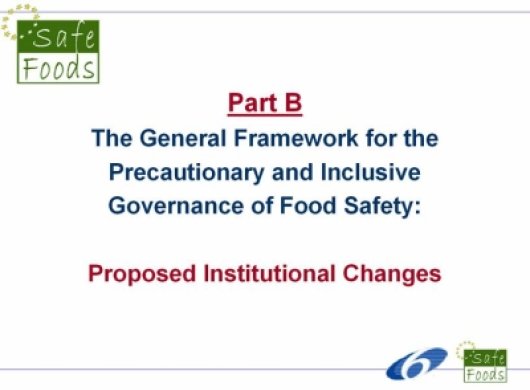 In the end, the recommended guidelines for risk regulators will be incorporated in the final SAFE FOODS Risk Analysis Framework.