3.1 Study 1: qualitative study on consumer and expert perceptions of food risk management practices
Aims
To understand how food risk management practices are perceived among various relevant stakeholder groups (i.e. consumers, food risk assessors, food risk managers and food safety scientists)
To identify key factors that influence how people think about food risk management
To examine similarities and differences in perceptions about the practice and effectiveness of food risk management across consumers and experts groups
Implications
Results from this study are used to develop a questionnaire (Study 2) to get better insight into the factors that influence consumer evaluations of food risk management practices.
Furthermore, understanding potential differences in perceptions of effective food risk management between consumers and experts will be important for designing appropriate food risk management strategies.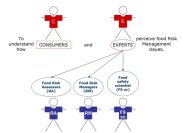 Methodology
| | |
| --- | --- |
| How? | Focus group + Personal follow–up interviews |
| Where? | Greece |
| | Denmark |
| | Slovenia |
| | UK |
| | Germany |
| How many participants? | 46 Consumers & 62 Experts |
The researched countries have been selected based on Hofstede values.
Results
When discussing food safety management, experts tend to express the same view independent of their cultural origins, whereas consumers tend to differ in opinion across countries. In other words, experts are more homogeneous and consumers more heterogeneous in their opinions about the quality of lfood risk management.
Furthermore, the three groups of experts (food risk managers, food risk assessors, food safety scientists) had similar opinions regarding food risk management. This is why the three types of experts will be included in the term "expert" from now on.
The results of the focus group research have also been collected in the presentation: "Results of the study on social representations of food risk management"
In respect to consumers and experts perceptions of food risk management, five key themes were commonly identified:
Efforts: Perceived efforts made by the responsible authorities to manage food risks
Responsibility: Responsibility for prevention and management of food risks
Priorities: How priorities are set within regulatory systems
Science: Scientific progress and its implications for food risk management
Media: Media attention and food safety incidents
Additional information about these key themes can also be seen on the poster: "Perceptions of Food Risk Management Practices among Key Stakeholders: Results from a Cross-European Study"

Some other topics were found to influence consumers' perception of trustworthiness of food safety managers:
Value of similarity: consumers have more trust in food managers that have similar interest as themselves, e.g. if they come from a similar background, or are perceived to have similar interests or values as consumers
Idealism & traditions: can play a role in trustworthiness, e.g. farmers are considered to be specialists in food in Denmark or Slovenia
Knowledge and expertise of actors: the level of consumer is correlated with the perceived level of knowledge and expertise of the food risk managers
Power and ability to act: because knowledge can only be displayed if there is ability to act!
In a ranking exercise carried out by consumers, involving eight types of food risk managers, two groups can be discerned:
Relatively high trust scores were found for: Consumer Organisations, scientists working for universities, national ministry responsible for safety of food, farmers
Considered less trustworthy by consumers: The European commission, food industry, food retailers and scientists working for industry
SAFE FOODS publications
This research has been published in two peer-reviewed scientific journals. You can find more details about this work and results in the following articles:
Articles can be made available upon request by sending an email to Ellen van Kleef or Julie Houghton.